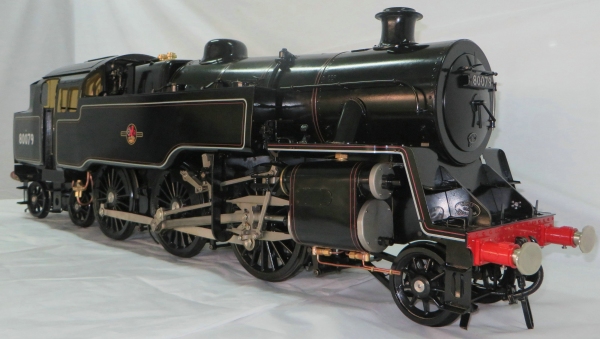 BR Standard 4 2-6-4 Tank (lined black)


New models now available to order....

As part of the 2018/19 batch production we ordered ten additional models for promotional purposes. Due to the ongoing demand for the Standard 4 we have decided to release these for sale. These will be ready for delivery in February 2020. The models will incorporate the latest upgrades.

The Ubiquitous BR Standard 4 Class .........

Designed by R.A. Riddles the BR Standard 4 Class was first introduced in 1951. With 155 engines built, and allocated to all areas with the exception of the Western Region, the Standard 4 was an ever present feature on freight and suburban trains. The last of the locomotives were withdrawn in 1967 after a relatively short service life due to the introduction of diesel and electric services.

Weighing in at 86 tons the locomotive was large and powerful as well as an elegant design.

The 5" Gauge Model.......

The BR Standard 4 has proved to be one of our most popular designs ever. With 50 models already delivered the model is a regular sight running at clubs throughout the UK. A number of examples put in a sterling performance at our recent Silver Crest rally at West Huntspill MES. See our website for video.

Each model comes complete with a silver soldered copper boiler, CE marked and hydraulically tested to twice working pressure. We supply fully compliant certificates and paperwork including an EU Declaration of Conformity. Before final delivery to our customer each model will be subject to an inspection by Mike Pavie. As testament to our confidence in the models we offer a full 12 months warranty.





BR Standard 4



Displacement lubricator

Multi-element semi-radiant superheater

Boiler feed by axle pump, injector,
hand pump

Two safety valves

Length 1210mm - Width 240mm
Height 350mm - Weight 95kg

Summary Specification

Coal-fired live steam

Walschaerts valve gear

Steam operated drain cocks

Silver soldered copper boiler

Reverser

Bronze cylinders with stainless steel pistons and valves

Stainless steel motion and grate

Sprung axle boxes with needle roller bearings

Etched brass body with rivet detail

Available in two liveries

Painted and ready-to run

Delivery and Payment Arrangements.....

In spite of cost pressures we are pleased to offer the model at the 2018 price of £7,995.00 + £195.00 p&p. This price cannot be repeated on any future production.

SAVE £195.00. We are pleased to offer free post and packaging for any order received within 28 days.

You can reserve your model for a deposit of just £1,995.00. We will request an interim payment of £2,500.00 in October as the build of your model progresses and a further payment of £2,500.00 in November. A final payment of £1,000.00 will be requested in January 2020 in advance of delivery.


Order Reservation/Checkout Section

To place your order reservation and pay the deposit of £1,995.00 now
please use order section below.

You are welcome to make payment by credit/debit
card, bank transfer, or cheque.

Prices and Shipping Worldwide

We are happy to ship your locomotive by air
direct to you wherever you live in the world.

UK £7,995.00 (Free shipping)
EU £7,995.00 + £245.00 shipping. Total £8,240.00
USA £6,662.50 + £495.00 shipping. Total £7,157.50
ROW £6,662.50 + £695.00 shipping. Total £7,357.50

UK and EU prices include VAT at 20%
USA and ROW customers may be subject
to duty/tax on importation.

Request your free brochure today

Request your free brochure today by e-mail or telephone.

Telephone: 01788 892 030

E-mail: info@silvercrestmodels.co.uk