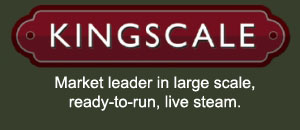 The 1366 Class is a relatively small model developed in response to the demand from customers who want to build their own 5" gauge garden railway. The 0-6-0 configuration and 99mm diameter wheels provides a model that can negotiate the tighter radius curves that are often a feature of the garden railway. This relatively lightweight model is easy to handle and maintain. However, this is not only a practical live steam model, but also an extremely attractive one. For GWR fans it is definitely one for your collection. The 1366 represents the best value 5" gauge model we have ever offered"

Mike Pavie

Customer testimonial

"Just returned from another party day around our track. 3 hours running and the respect of onlookers is building to match ours".

Mr GC
(14xx Class customer. Over 120miles logged to date)



NOW AVAILABLE FOR IMMEDIATE DELIVERY !

5" GAUGE GWR 1366 PANNIER TANK

Unbeatable value at just £4,995.00 + shipping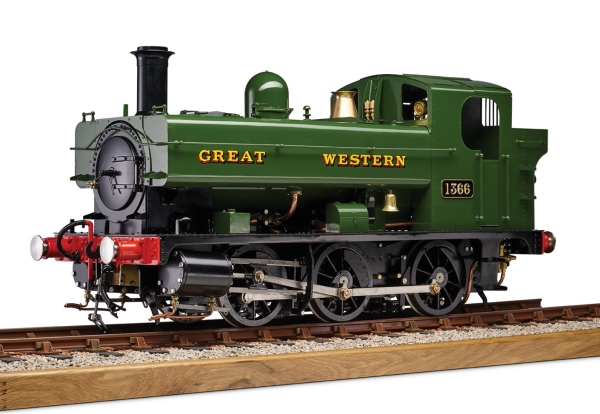 GWR 1366

Unique in a number of respects for a GWR pannier tank the 1366 is a beautiful, well balanced, design that will grace your local track, or take pride of place in a home showcase. The 1366 features two outside cylinders and Stephenson valve gear. Its modest size and 0-6-0 configuration makes this an ideal model for customers seeking a relatively light 5" gauge model that is suitable for the tight radius (under 25ft) of a garden railway, or club track. Designed by C.B.Collett the prototype weighed in at just under 36 tons. Only six locomotives were completed and were assigned to lightweight shunting, branch line and pilot work. 1369 is preserved and operates on the Dart Valley Railway. Built at Swindon in 1934 the Class were modern versions of Churchward's 1361 Class saddle tanks which were built to operate in docks and on lines with severe weight restrictions. With a tractive effort exceeding 16,000 lb these engines were more powerful than a number of comparably sized locomotives such as the 14xx Class. The locomotives were presented in GWR green with Great Western written in full on the water tanks.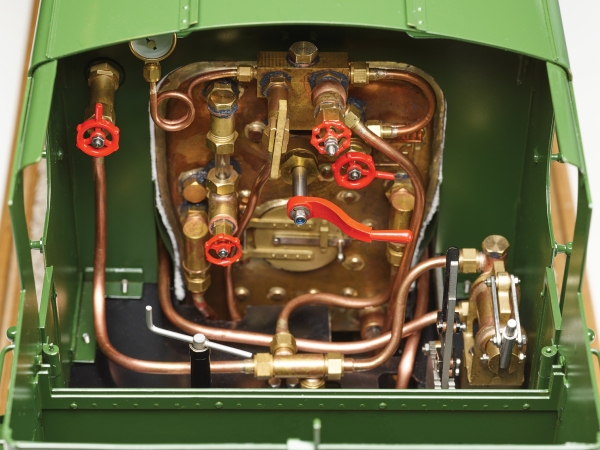 The Model....

Weighing in at around 35kg the model offers easy handling and transportation. Its uncomplicated outside cylinder arrangement offers reliability and easy maintenance. We have reserved workshop capacity for the manufacture of 50 models in 2019 with delivery in September of that year. Following completion of the batch there are no further deliveries of this model planned until 2022 at the very earliest. At just £4,995.00 + shipping the 1366 Class offers unbeatable value for a brand new ready-to-run model. Indeed you would be fortunate indeed to purchase a well used second hand 5" gauge pannier tank of comparable quality at anything approaching this price. All our prices include VAT. We are happy to supply your model in your choice number from
1366-71

Each model comes complete with a silver soldered copper boiler, CE marked and hydraulically tested to twice working pressure. We supply fully compliant certificates and paperwork including an EU Declaration of Conformity. The model is built to a high specification and, due to customer demand, now benefits from a mechanical lubricator in place of the displacement type of previous models. Before final delivery to our customer each model will be subject to an inspection by Mike Pavie including a 1.5 x hydraulic boiler test to ensure there is no leakage from the boiler fittings. The model is also run on air as part of the inspection.

We are as thorough as possible in the development phase and manufacture. Suppliers must agree to adhere to our specially written Quality Standards Manual. As testament to our confidence in the models we supply we offer a full 12 months warranty on every product.

Request your free 8 page colour brochure today. E-mail: info@silvercrestmodels.co.uk or telephone 01788 892 030.

Brochure available January 2019.






GWR 1366



Sprung axle boxes with needle roller bearings

Etched brass body with rivet detail

Safety valve

Painted and ready-to run
Summary Specification

Coal-fired live steam

2 Outside Cylinders

Stephenson valve gear

Cast iron cylinder blocks (bronze liners)

Drain cocks Mechanical lubricator

Silver soldered copper boiler

Multi-element semi-radiant superheater

Reverser

Boiler feed by axle pump, injector, hand pump

Stainless steel motion and grate

Delivery and Payment Arrangements.....

AVAILABLE FOR IMMEDIATE DELIVERY...

Save £195.00. We are pleased to offer free post and packaging for any UK order received by end January 2020
Full payment of £4,995.00 required in advance of delivery.

Order Reservation/Checkout Section

To place an order and pay in full
now please use order section here.

You are welcome to make payment by credit/debit
card, bank transfer, or cheque.

Prices and Shipping Worldwide

We are happy to ship your locomotive by air
direct to you wherever you live in the world.

UK £4,995.00 (Free shipping)
EU £4,995.00 + £195.00 shipping. Total ££5,190.00
USA £4,162.50 + £295.00 shipping. Total £4,457.50
ROW £4,162.50 + £395.00 shipping. Total £4,557.50

UK and EU prices include VAT at 20%
USA and ROW customers may be subject
to duty/tax on importation.