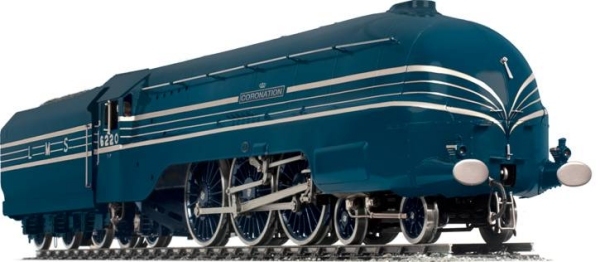 G3 LMS Coronation in Blue/Silver livery

LMS Coronation Class

Designed by Sir William A. Stanier the first of these magnificent streamlined locomotives was built at Crewe in 1937. With a tractive effort of 40,000lb these 4 cylinder locomotives were extremely powerful and can be seen as a response by LMS to the LNER A4's built less than 2 years earlier. In fact many maintain that if it were not for the storm clouds of World War II gathering that the LMS Coronation could have snatched the world speed record for steam away from the A4 Mallard.

The first locomotive "Coronation" gave its name to the Class and was out-shopped in striking blue and silver livery. A set of nine Coronation Scot coaches were specially prepared in blue/silver livery to match the locomotive. This period represented the height of the golden age of steam with rivalry between the big four companies driving innovation to create some of the most iconic locomotives ever to run on British rails.

Following the first 5 locomotives in blue and silver the second batch of 5 were turned out in red and gold livery. Amongst these was Duchess of Hamilton currently preserved and returned to its original streamlined form.



The Gauge 3 Model........

The Coronation Class model is built to a near exact scale of 1/22.6. Beautifully detailed it is designed to run on 2.5" gauge track.

Each model comes complete with a silver soldered copper boiler, hydraulically tested to twice working pressure. We supply fully compliant certificates for boilers and gas tanks. As testament to our confidence in the models we supply we offer a full 12 months warranty on every product.

Request your free 8 page colour brochure today. E-mail: info@silvercrestmodels.co.uk or telephone 01327 705 259.



G3 LMS Coronation in red/gold livery



Sprung axle boxes with needle roller bearings

Etched brass body with rivet detail

Two safety valves

Available in choice of names

Painted and ready-to run

Length 1002mm Width 130mm

Height 178mm Weight 18 kgs
Summary Specification

Gas-fired live steam

4 Cylinders

Walschaerts valve gear

Slide valves

Automatic drain cocks

Displacement lubricator

Silver soldered copper boiler

Reverser in cab

Ceramic burner

Boiler feed by axle pump, and hand pump

Stainless steel motion
Delivery and Payment Arrangements.....

The model is priced at £5,495.00.

We have only three models remaining from a batch of 60. It is available as Queen Mary in blue/silver livery only.

SOLD OUT

Prices and Shipping Worldwide

We are happy to ship your locomotive by air
direct to you wherever you live in the world.

UK prices include VAT at 20%
EU, USA and ROW customers may be
subject to Duty/Tax on importation.